New Stoughton Trailer Sales
Proud Dealer - In Authorized Areas
Stoughton Trailers provide the most durable dry van and refrigerated trailers on the road today. Each Stoughton trailer is subject to a thorough inspection prior to shipment from our Wisconsin manufacturing plants.
At Stoughton, "It's in the details."
What makes Stoughton different... It's in the Details!
Dual Tensioned Roof
We are one of the only dry van trailer manufacturers to offer a Dual Tensioned Roof. The dual tension feature prevents the typical loose roof sheet areas that often exist with other roof systems that rely on glue to keep the roof sheet taut. Loose roof sheet areas puddle and are likely to "oil-can" and crack.
Super-Sill
The increased thickness of the bottom flange on our exclusive Super-Sill makes for stronger joints and better welds at both landing gear and bogie attachments. The combined strength of the Super-Sill cross members, staggered screw pattern and the solid oak flooring delivers a floor rated for 22,000 pounds – the best standard forklift rating* in the industry.
SOLID OAK FLOORING
Our premium solid oak flooring, superior to combined hardwood floors, is fastened with a staggered three-screw pattern. Sealant is uniformly applied to all floor joints for additional protection against moisture intrusion. Our floors combined strength with the Super-Sill cross members deliver a floor rated for 22,000 pounds – the best standard forklift rating* in the industry.
WIDE SLIDE RAIL
In conjunction with using the Super-Sill, Stoughton mounts the suspension to a unique Wide Slide Rail. This provides over 38% more weld than a competitive slide rail will permit, which reduces downtime and eliminates the need to use gussets.
SUPERIOR PROTECTION
Stoughton steel body parts are grit-blasted and primed with a zinc-rich, two part epoxy primer which is baked on and then finished with a two part modified acrylic enamel and baked one last time. This process offers superior protection against corrosion.
FRONT COUPLER
Stoughton trailers have a 3-½" deep front coupler that meets the Association of American Railroads (AAR) certification. The kingpin is an SAE International crosshead type that provides extra long wear. Where many competitors use a 3/16" steel bottom plate, Stoughton trailers have a ¼" thick bottom plate. The front coupler contains a heavy-duty steel front lip and wrap-around apron, which absorbs hits and scrapes better than most competitive aluminum versions.

INDUSTRIAL REAR
The Industrial Rear comes with a massive light box structure framed with steel eyebrows and a heavy duty crash bar across the back. Additionally, the rear frame is tied directly into the floor across the entire sill and also into multiple cross members for superior durability.
HIGH IMPACT FRONT END
Stoughton trailers come standard with six 16-gauge steel nose posts, unlike competitive trailers that are only equipped with four posts. A 6" steel angle across the bottom ties all six posts together to absorb impact better. Top front damage is reduced and easier to repair on a Stoughton trailer due to the durable 3-piece top front section. The cast aluminum corner caps overlap the aluminum nose sheets and the top rail for easier replacement.
Rear impact guard
The new underride guard is designed to provide greater protection to the driving public in the event of an accident at the rear of a trailer. The new rear guard resists the compartmental intrusion of an automobile when the location of impact is at 30% to 100% overlap of the width of the car to the underride guard. This meets the testing protocol established by the Insurance Institute for Highway Safety and complies with all applicable U.S. and Canadian regulations.
This new feature became standard equipment on all Stoughton Trailers Dry Vans beginning in November of 2016. Our new design impressed the industry and received the Heavy Duty Trucking Magazine's Top 20 Award for 2017. Stoughton trailers equipped with the new patent-pending rear underride guard underwent extensive tests both internally and through multiple independent testing agencies, including crash testing performed at the IIHS facility.
The leading-edge enhancements of the rear underride guard are engineered to smoothly integrate into the trailer, creating a robust and sleek rear appearance without added weight. More benefits of this addition include:
All four supports are integrated into the bar and fastened to a robust undercarriage to strengthen the guard.
No added weight
No negative impact on aerodynamics
No additional costs
For enhanced protection of your drivers and transport products, choose new Stoughton models for your fleet.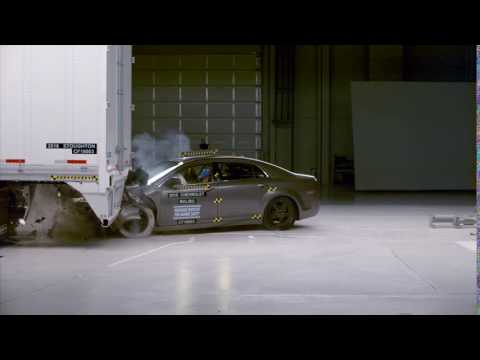 Stoughton Rear Impact Guard Testing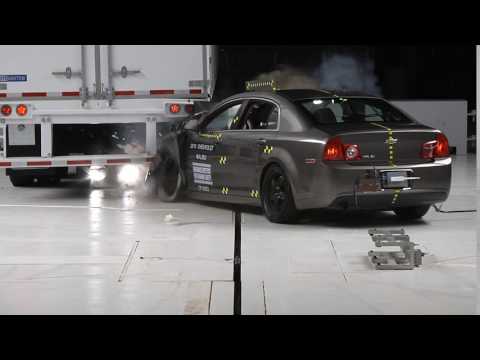 Stoughton Rear Impact Guard Testing - Rear View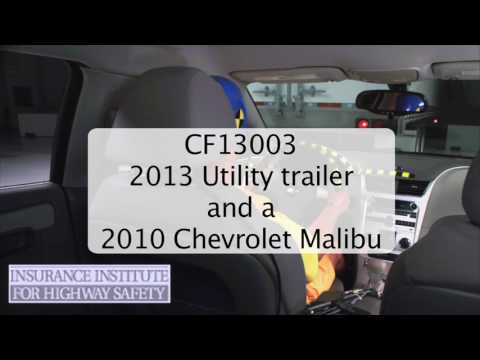 30 Degree Overlap Test
Stoughton Rear Impact Guard Testing - Side View
Stoughton Rear Impact Guard Testing - Rear View